Vernal, UT, serves as the gateway to your next western adventure. With an affordable car rental from Allsave Car Rental Utah, you can explore the most awe-inspiring sights in the West! Check out our previous post for more information on the first three stops of this epic 1100-mile loop through Colorado and Utah.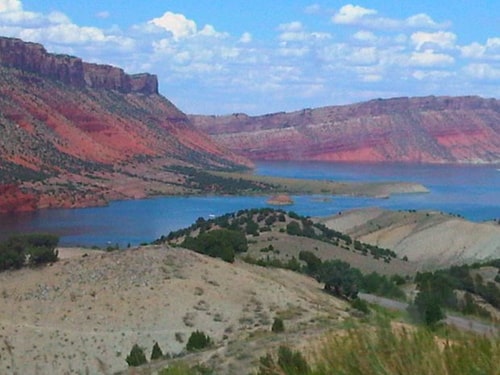 Heading West
Our previous post ended with a stop in the majestic Rocky Mountain National Park. After soaking in the Rocky Mountain grandeur, take the southern route home to visit three more spectacular national park sites:
4. Colorado National Monument
From Rocky Mountain National Park, take I-70W toward Grand Junction to visit Colorado National Monument. The monument is part of the greater Colorado Plateau and houses breathtaking red rock expanses, deep canyons, and sand towers. Visitors can explore the area on foot, bike, or car. Follow Rim Rock Drive through the monument, exiting near Fruita as you head southwest toward Moab.
5. Moab
Moab serves as home base for two of the most spectacular national parks in the country: Arches and Canyonlands. Arches is famous for its abundant rock arch formations. In fact, there are more than 2,000 arches in the park – that's the greatest concentration of arches on the planet! Canyonlands, on the other hand, is known for its beauty, tranquility, and excellent hiking trails. We recommend hiring a professional tour guide to help you experience the best of these magnificent parks.
6. Salt Lake City
From Moab, travel north to Salt Lake City. As a modern city set at the foot of spectacular mountains, visitors can enjoy both rich urban culture and outdoor adventure. From watersports, skiing, hiking, and biking, to shopping, historical sites, entertainment and dining, Salt Lake City has it all!
7. Flaming Gorge
Finally, complete your adventure with a trip to Flaming Gorge National Recreation Area. Flaming Gorge is a huge reservoir that is most well-known for its trophy lake trout. The alpine forests and deep rock canyons of the area are best viewed from the water. We recommend rafting the Sheep and Green Rivers to experience all the area has to offer.
Reserve a Car Rental
End your journey right where it started: Vernal. With on-site car rentals and shuttle services to and from the Vernal Airport, a road trip through the West has never been more convenient. To reserve a car rental for your western vacation, contact Allsave today at (435) 789-4777.
https://pom-static-national-park-trips.s3.amazonaws.com/public/RM-SLC-RoadTrip-2021x.pdf
visitgrandjunction.com
moabadventurecenter.com/arches-national-park-tours
moabadventurecenter.com/canyonlands-national-park
visitsaltlake.com
utah.com