If you are looking for a home base for your adventures in Wyoming, Colorado, or northern Utah, Vernal is the perfect choice. Vernal sits on the edge of several beautiful mountain ranges and boasts great fishing, camping, mountain biking, and more. Plus, Dinosaur National Monument is just a stone's throw away. With a convenient car rental from Allsave Car Rental Utah, you can explore every inch of this beautiful region of the country.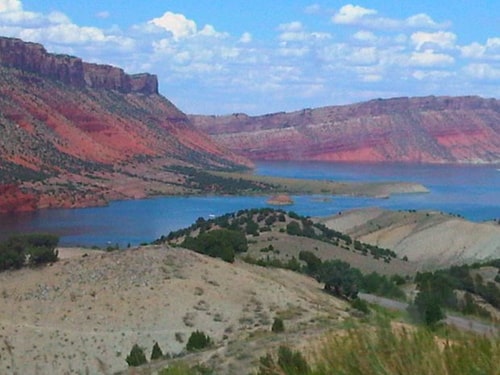 Dinosaur National Monument
Located just 20 minutes east of Vernal, you will find the largest quarry of prehistoric bones in the world: Dinosaur National Monument. The park's western entry point, known as the Dinosaur Quarry, is a great starting point as it houses the world-famous fossil exhibits. Some of the park's most popular activities include:
Driving tours around the park
Hiking the nature trails
Backpacking
Mountain biking
White water river running
Photography
Bird watching
Fishing
Stargazing
Flaming Gorge National Recreation Area
Another national treasure lies just north of Vernal: Flaming Gorge National Recreation Area. Flaming Gorge is one of the west's most spectacular reservoirs, and draws more than 2 million visitors each year. The reservoir serves as one of the best fishing destinations in the west. Additionally, with more than 200,000 acres of land and water, Flaming Gorge provides plenty of opportunity for outdoor adventures.
Red Fleet State Park
Red Fleet State Park is located just north of Vernal and is one of the region's most beloved camping locations. The campground provides a panoramic view of the reservoir and its sandstone cliffs. Mountain bikers, boaters, and fishermen will find plenty of opportunities for fun. Plus, the park is home to prehistoric dinosaur tracks that hikers can view along the Dinosaur Trackway.
Vernal Car Rental
Northeastern Utah serves as the gateway for your next big adventure. No matter where you plan to go, Allsave has the perfect rental option to meet your needs. We offer a full fleet of affordable, high-quality car, van, SUV, and truck rentals with unlimited mileage throughout Utah, Colorado, and Wyoming. Make a reservation online or call (435) 789-4777 for more information.
https://www.visitutah.com/places-to-go/cities-and-towns/vernal/
https://utah.com/vernal-dinosaurland
https://www.visitutah.com/places-to-go/parks-outdoors/dinosaur-national-monument/
https://www.visitutah.com/places-to-go/parks-outdoors/flaming-gorge/
https://www.visitutah.com/places-to-go/parks-outdoors/red-fleet-state-park/